The Precision Hydration PF30 energy gels are a high carb, subtle tasting energy gel that are easy to consume and sit easy on the stomach. They're not a sweet and have a simple ingredient list that is an effective energy source for athletes.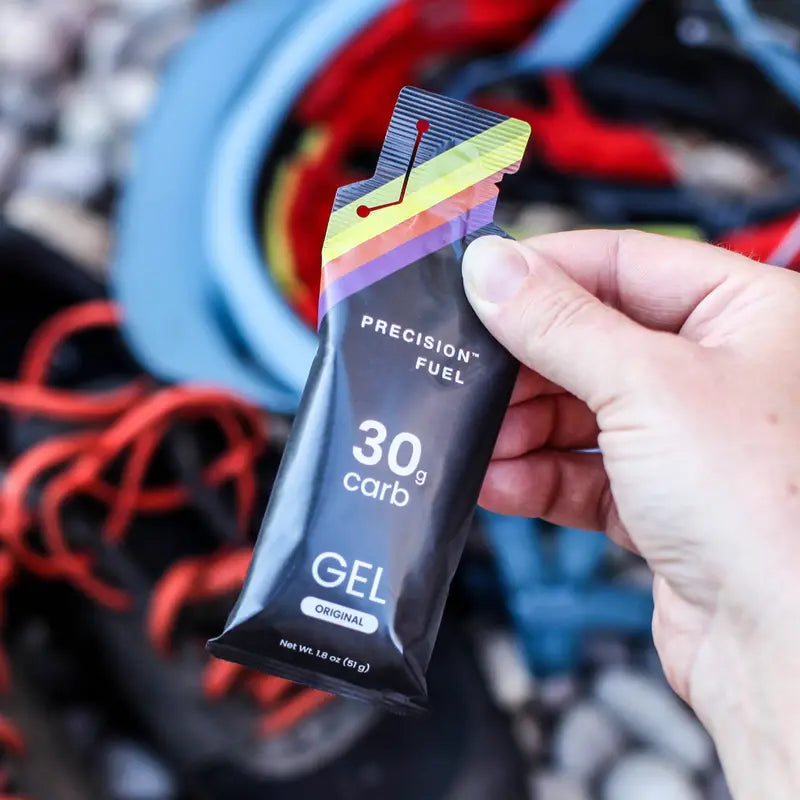 Each gel contains 30g of carbohydrates, which is more than many of the competition. The market leaders SIS Go Isotonic have 20g, High 5 Gel have 23g and the standard OTE Gel have 20g. 
There are higher carb alternatives like the SIS Beta gel (at 40g carbs) or the OTE Super Gel (40g) but this sits well as a powerful gel that gives you energy for longer or more intensive sessions. The gel is also high density, which means that it's a relatively small pouch to carry with you, it's only 51g in total. 
How many carbs do you need?
This table gives you a rough idea on the recommended carb intake, although everyone is slightly different and we'd always recommend trying out a fuel strategy that works for you. 
| | | | |
| --- | --- | --- | --- |
| Exercise Intensity | Duration | Carbs Before | Carbs During |
| Very High | <30 Minutes | Unnecessary | Unnecessary |
| High Intensity | 30-90 Minutes | 20-25g | 30-60g |
| Moderate - High | >90 Minutes | 20-50g | 60-80g per hour |
| Moderate | 5 Hour+ | 20-50g | 60-100g per hour |
Ratio, Consistency & Flavour
Fructose allows the body to digest and use more carbohydrates, and this gel has a 2:1 ratio of maltodextrin to fructose. Glucose has a high GI index, which increases blood sugar quickly whereas Fructose has a lower GI index which means it raises your blood sugar level more gradually. Therefore this gel is good for those that want a sustained energy delivery during their exercise. 
These gels have a quite a thin and easy to consume consistency, somewhere similar to the SIS go isotonic. And the flavour isn't overly sweet, which means you shouldn't need as much water when you consume although they do only do these in one flavour. However, they've developed this for a reason, to reduce any 'flavour fatigue' which people can experience when taking on a lot of gels over a session. It's subtle, which means you should be able to take on as many as you need without being overwhelmed. 
Ingredients & Design
The gel is certified by Informed Sports and has quite a basic list of ingredients: Maltodextrin, Water, Fructose, Pectin, Citric Acid, Potassium Sorbate & Calcium Lactate. They're vegan also friendly which is good.
The gel pouch is a nice design too and different to most. It has a loop attached to the opening which means that you don't lose the end when you tear off to use. 
Alternatives
I want more carbs...
Then try the SIS Beta Fuel or OTE Super Gel
I want a better flavour...
Try the Torq or Veloforte range
I want something cheaper...
Try the SIS Go Isotonic or the High 5 Energy Gels
Verdict
These gels occupy a nice bracket for energy gels, having a high density carb formula which means you can take fewer, they're easy to consume and shouldn't upset your stomach and they're a nice size to carry along with you. 
Pick up some today from our store here.