Regular price
£1.99 GBP
Sale price
£1.39 GBP
Unit price
per
Sale
Sold out
Low stock: 5 left
Energy Bar is a natural mix of real fruits and grains to provide a great tasting balance of simple and complex carbohydrates for your training and racing. It can also be used as a healthy snack throughout the day. It's easy to chew, not too sweet and provides one of your 5-a-day!
Simple and complex carbs from oats and fruit
One of your 5-a-day
Easy to chew
Suitable for vegetarians and vegans (Berry Yoghurt and Caramel contain milk)
25 Pack: 25 x 55g bars
Energy Bar is designed to be taken BEFORE and DURING exercise or as part of an active lifestyle.
Please consider the environment and keep the countryside clean by taking your empty bar wrappers with you after use.
FAQ
Are these bars all coated?
Energy Bar Caramel is coated in chocolate and Energy Bar Yoghurt is coated in Yoghurt, making them unsuitable for vegans. Energy Bar Peanut, Coconut, Berry and Banana are all uncoated.
Are these bars gluten free?
Energy Bars contain oats which themselves do not contain gluten. However, there is a small risk they could be cross contaminated with other cereals which do contain gluten.
Is this product Vegetarian/Vegan?
Energy Bar Banana, Berry, Coconut and Peanut are suitable for Vegetarians and Vegans. However Energy Bar Caramel and Berry Yogurt contain animal products and are therefore not suitable for vegans. See full list of allergens under the 'Nutritional Info & Ingredients' tab.
Is this product natural?
Energy Bar is made with real fruits and grains. It contains only natural flavours with no artificial sweeteners or colourings.
Does this product contain caffeine?
No, Energy Bar does not contain caffeine.
Are the products suitable for carbo loading?
Energy Bar is perfect for carbo loading 
What did this product used to be called?
Energy Bar Caramel and Energy Bar Yoghurt was previously called Sports Bar. The product itself has not changed.
Shipping & Returns

Shipping policy

All orders are processed within 2 business days (excluding weekends and bank holidays) after receiving your order confirmation email. You will receive another notification when your order has shipped. 

Domestic Shipping Rates and Estimates

We offer free shipping on orders over £30 anywhere in the UK estimated delivery 2 - 3 working days
Ingredients

<table>
<tbody>
<tr>
<td class="tb-title">Banana</td>
<td>Dried Fruit 49% (Sultanas, Pineapple, Banana, Sugar, Citric Acid, Sunflower Oil, Sulphites) Oats 25%, Maltodextrin, Humectant (Vegetable Glycerol), Oatbran 2%, Sunflower Oil, Coconut Oil (MCT), Natural Flavouring, Vitamin B6</td>
</tr>
<tr>
<td class="tb-title">Berry</td>
<td>Dried Fruits 60% (Sultanas, Sugar, Cranberries, Pineapple, Apricots, Apple, Sulphites), Oats 26%, Maltodextrin, Oatbran 3%, Humectant (Vegetable Glycerol), Sunflower Oil, Coconut Oil (MCT), Natural Flavourings, Vitamin B6</td>
</tr>
<tr>
<td class="tb-title">Coconut</td>
<td>Dried Fruits 61% (Sultana, Coconut, Sugar, Pineapple, Papaya, Apple, Banana, Sunflower Oil, Sulphites), Oats 18%, Maltodextrin, Oatbran 4%, Humectant (Vegetable Glycerol), Lemon Juice Concentrate, Vitamin B6</td>
</tr>
<tr>
<td class="tb-title">Peanut</td>
<td>Dried Fruit 45% (Sultanas, Dates, Rice Flour, Sunflower Oil), Peanuts 38%, Sunflower Seeds, Humectant (Vegetable Glycerol), Oats 1%, Maltodextrin, Vitamin B6</td>
</tr>
<tr>
<td class="tb-title">Caramel</td>
<td>Glucose Syrup, Milk Chocolate 20% (Sugar, Cocoa Butter, Whole Milk Powder, Cocoa Mass, Emulsifier (Soy Lecithin), Flavourings), Oat Flakes, Raisins, Rice Crisps 10% (Rice Flour, Wheat Gluten, Sugar, Wheat Malt, Glucose, Salt), Caramel Paste 6% (Sweetened Condensed Milk, Glucose Syrup, Palm Oil, Caramelized Syrup, Sugar, Emulsifier (Mono- And Diglycerides Of Fatty-Acids), Salt, Natural Flavourings), Maltodextrin, Honey, Salt, Natural Flavourings</td>
</tr>


</tbody>
</table>
Share
View full details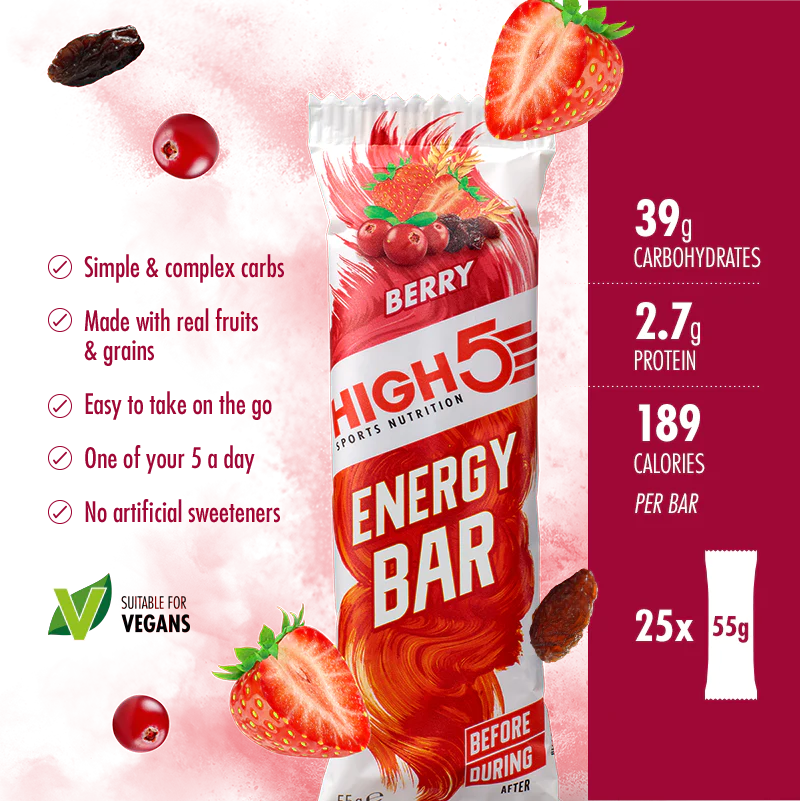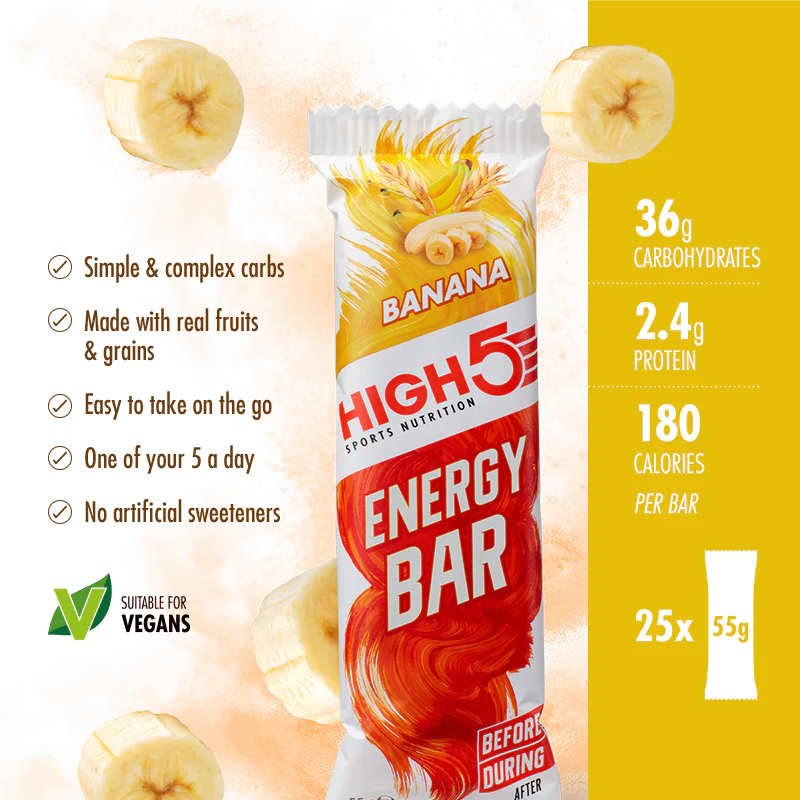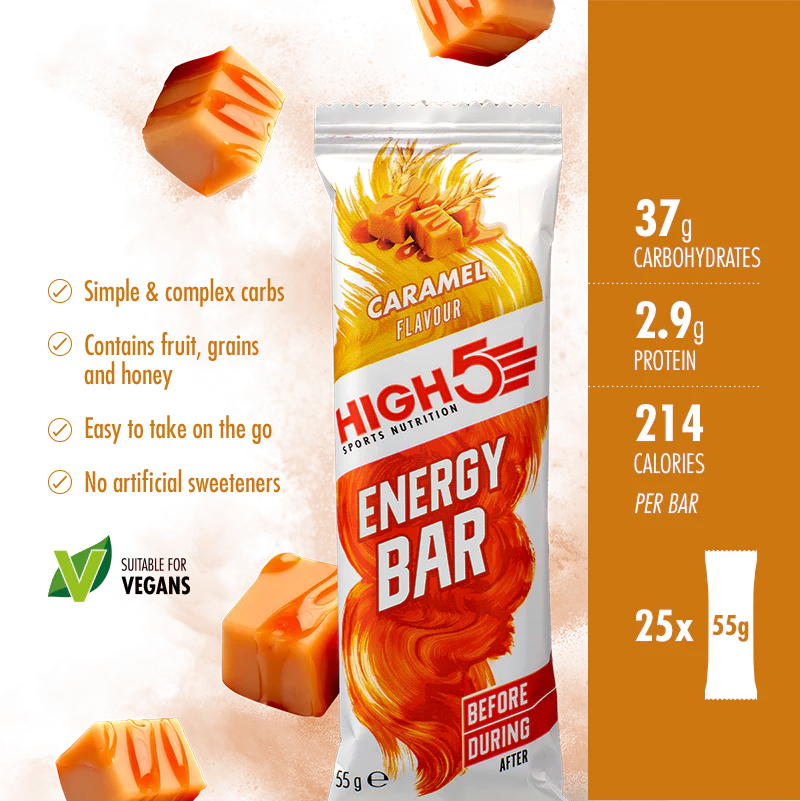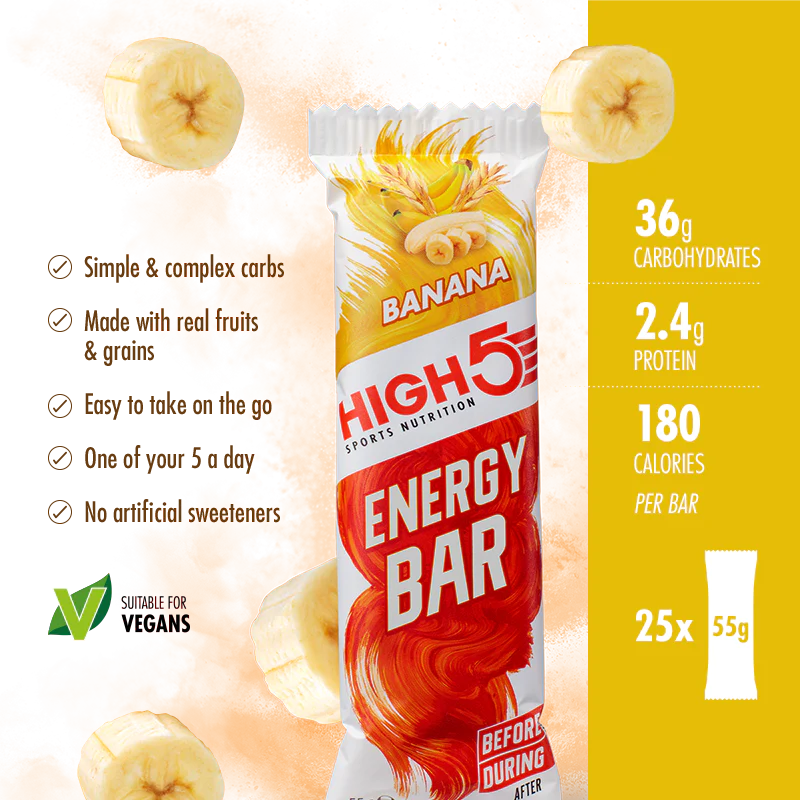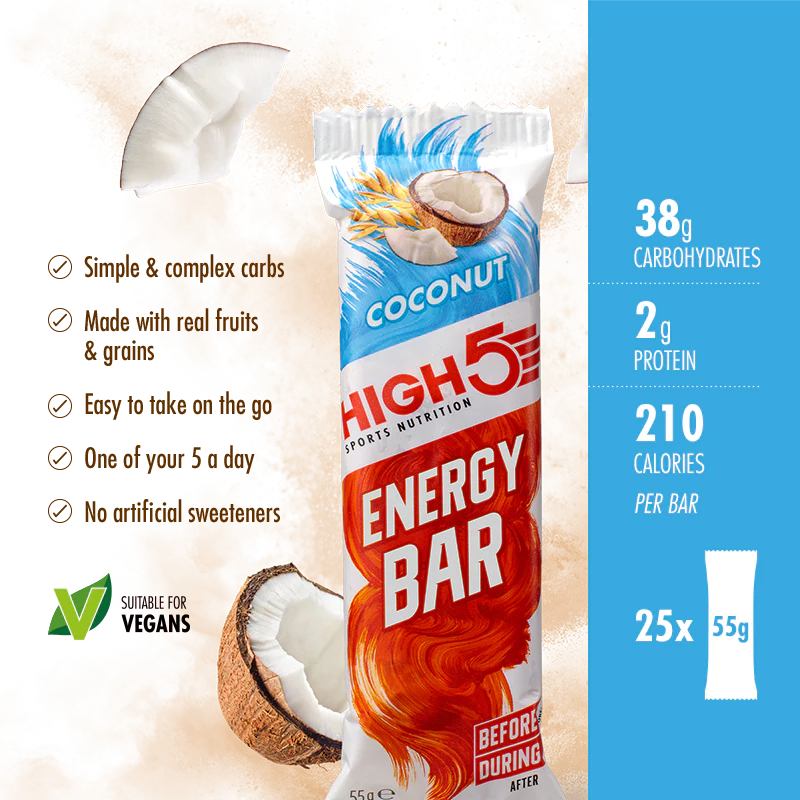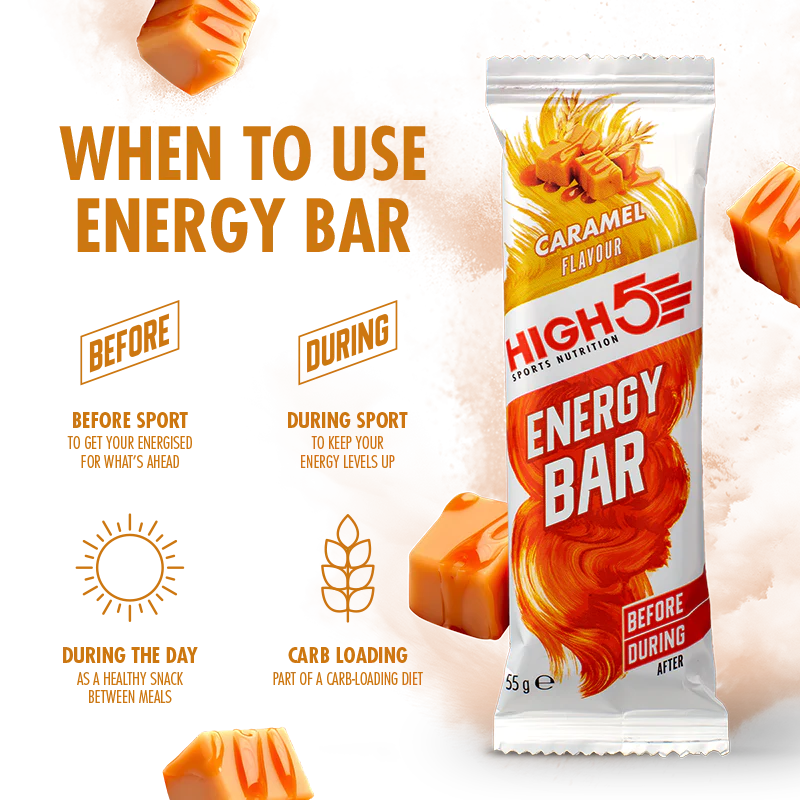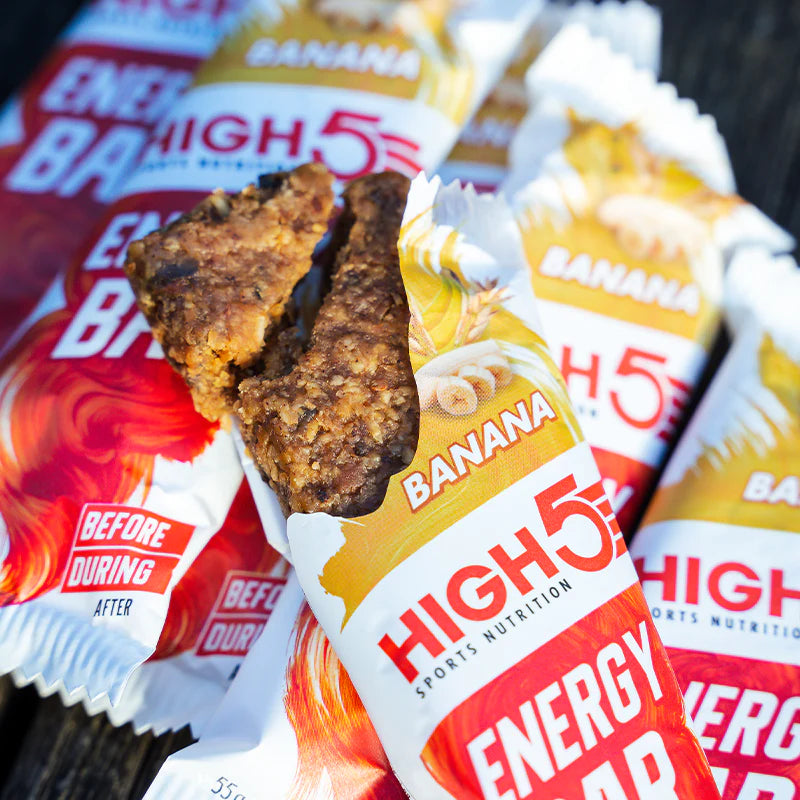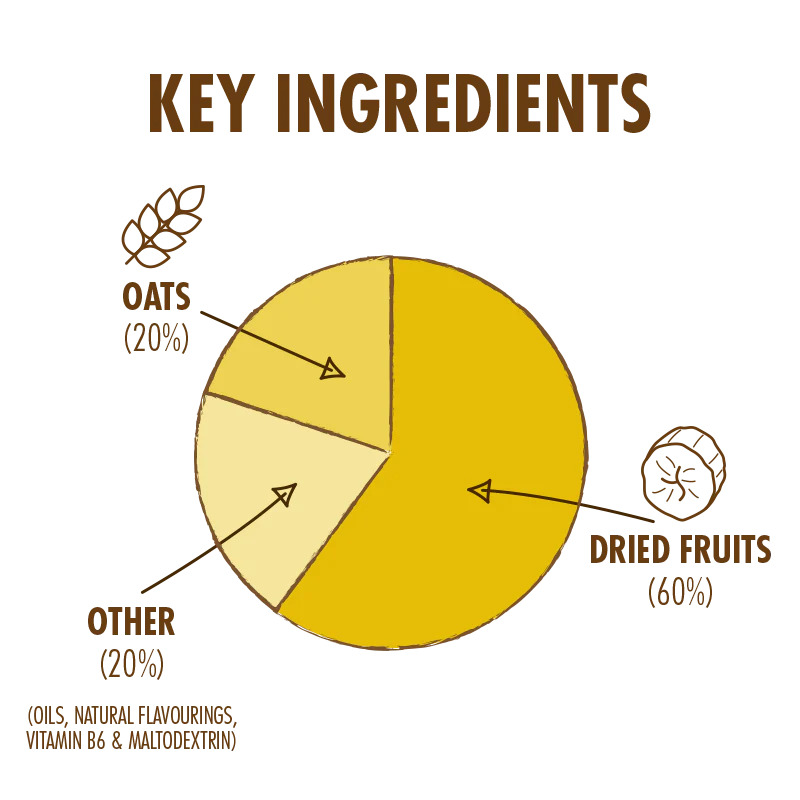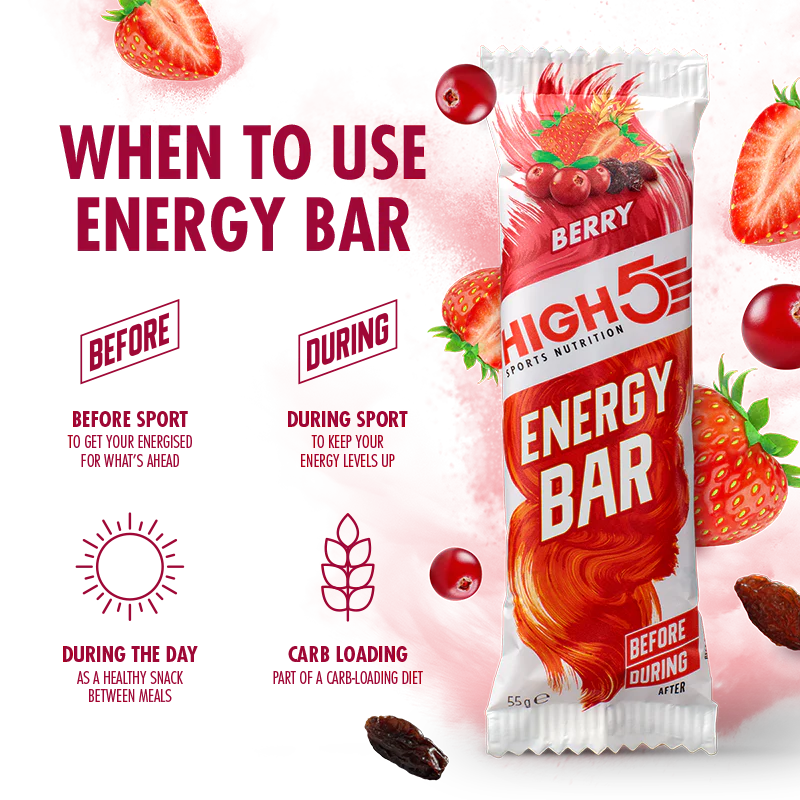 ABOUT HIGH5
HIGH5 is committed to creating nutritious products with unique natural flavours and is passionate about helping you achieve your goals – however big or small.
HIGH5 hits you for every run and every race, for when you aim to win and when you don't, for your first mile and every extra mile. High5's got you.
With over 25 years of experience providing sports nutrition products, HIGH5 products have everything you need to be at your best any day.


Scientifically engineered performance
All HIGH5 product formulations help you reach peak performance. Once HIGH5 are confident of this, the in-house flavour experts take over. They balance the sweet with the sour, testing and tweaking all the time. But, of course, they are only satisfied if the result tastes great. 
Advanced flavour selection
You won't see unnecessary fillers or artificial flavours at HIGH5. Rhubarb and custard for sports nutrition? It just doesn't sit right with us. So instead, we only use natural flavours that we know will give you the boost you need, like tangy Citrus or sweet berries. 
Rigorously tested 
HIGH5 designs products which pack enough punch to get you over the finish line. As well as testing rigorously with experts, HIGH5 work closely with professional athletes and teams. They put HIGH5 to the test on-road during high-intensity training sessions and races. 
History
Started by two British Triathletes in 1994, HIGH5 has always been about making effective products for our fellow endurance athletes. Competing in some of the World's toughest competitions, they knew that, first and foremost, the product had to work but also that products used during sports need to have a light flavour, be stable in the stomach and be practical to use. This no-nonsense approach means HIGH5 products are always 100% fit for purpose.
Nothing but the best
Whilst the products HIGH5 have in their range has changed, this practical approach still rings true today. HIGH5 closely evaluates every product formulation, never settling for a result that only meets the mark. And that's why HIGH5 are only willing to decide on the best. We'll do it if that means adapting or updating how we do something.
Here are some of HIGH5 most significant achievements that have helped provide you with the latest innovations in sports nutrition:
First in the World to launch 2:1 fructose energy drinks

First in the World to research 2:1 performance gains and produce step-by-step nutrition guides

First in Europe to launch a 4:1 carbohydrate and protein drink for use during and after sport

First in the World to undertake advanced carbohydrate absorption testing with elite athletes, setting new records in the process

First in Europe to use real fruit juice for a lighter, more refreshing gel taste, and remains one of the few companies to do so. Sports nutrition is about more than going faster with technology. It needs to taste great as well!
Support
HIGH5 is the on-course nutrition at more than 500 races and events around the World. HIGH5 recognise the importance of supporting sport at both grassroots and elite level. So whether you are just looking to cross the finish line or pushing for a personal best, HIGH5 products will give you what your body needs to be the best you can be, any day.
Your most loyal training partner. With HIGH5 by your side, there isn't a challenge you can't complete!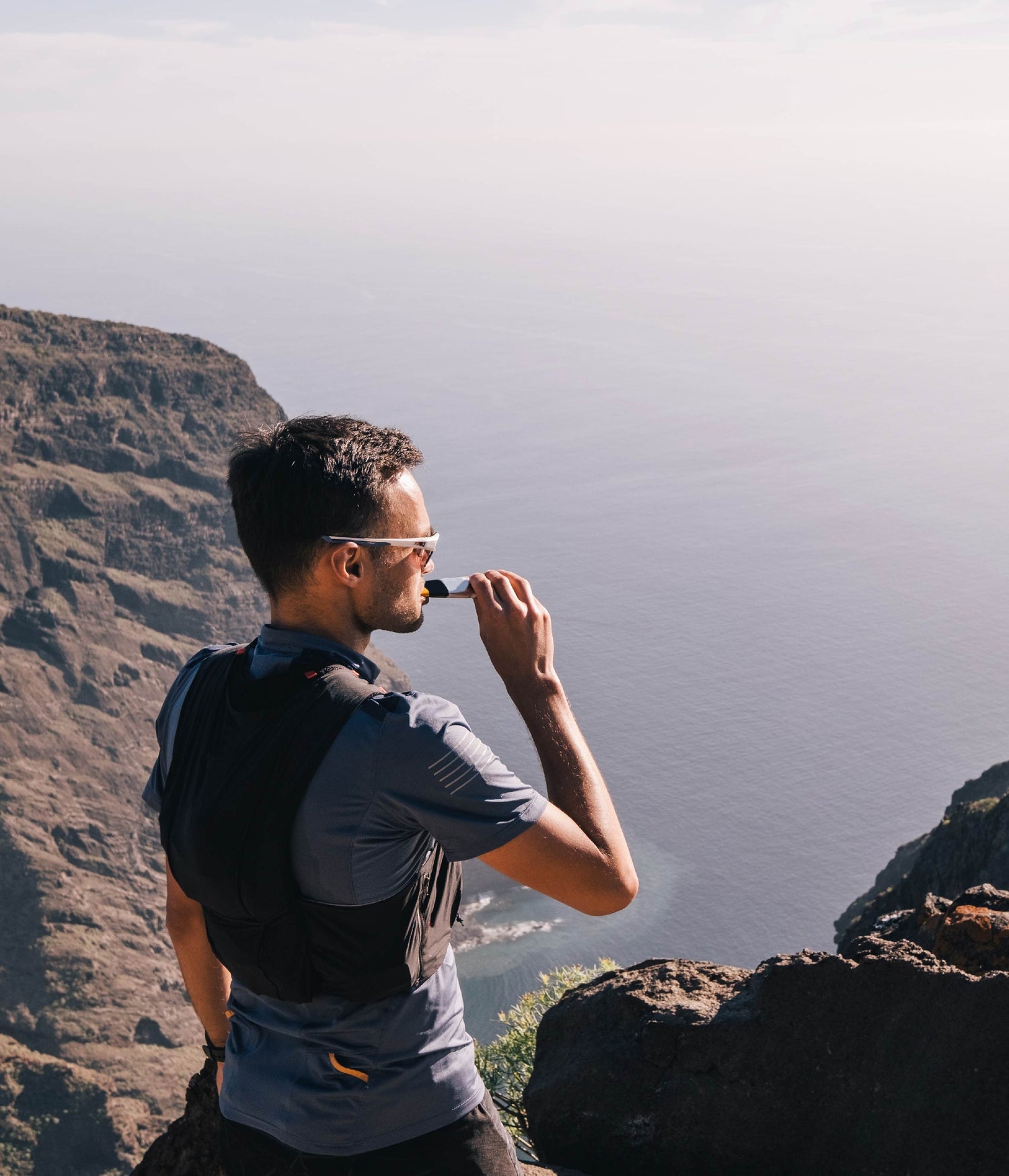 Free Shipping

Free shipping available on orders over £30

Hassle-Free Exchanges

If you need to return an item to us, you can do so within 30 days of purchase.